Welcome to Doug's World
I am currently an Assistant Professor in the Department of Political Science at the University of Wyoming. My studies are focused in the broad areas of public policy, innovative research methods, political psychology, and information systems policy. I teach courses on public policy, public administration, research methods and American government. I have been published in journals such as Science, PLOS One, Political Psychology and the Policy Studies Journal. I received my Ph.D. in 2010 from the University of Nebraska where my adviser was Kevin B. Smith
Individual Behavioral Models of Public Policy
My primary research focus concerns the intersection of public policy and political psychology. Many of the theories of the policy process suggest specific behaviors for individual actors. However, these theories have primarily been tested at the aggregate level. Therefore, my principle research interest at the moment is in developing and testing theories of individual behavior which complement the existing models of the policy process. Prior models such as bounded rationality are a good place to start, but saying that human beings are biased information processors does not tell us much about the specific behaviors involved in being an actor in the institutions of the policy process. We can do better, and I intend to conduct fundamental research in this area.
Methodologically, I believe that multiple approaches are necessary for a full understanding of an object being studied. This includes some that are not exactly traditional for political science. Some of the methods I have adopted in the past include measuring policy attitudes both implicitly and explicitly. During graduate school, I was affiliated with the Political Physiology Lab at the University of Nebraska where we used measures of the autonomic nervous system to study the relationship between policy attitudes and threat and disgust. In addition, I have built agent-based models in order to understand individual behavior and its interaction within the institutional context of the policy process. I have also utilized embedded experiments in surveys to better understand the factors affecting policy problem recognition.
Information Technology Policy
While my research agenda is relatively full at the moment, I still keep an eye on the topic of information technology policy. This area is heating up, especially regarding cybersecurity. My belief is that we will need to first understand, and then extend to cyberspace the same functions that government performs in the tangible world. For instance, government often provides services related to identity such as with passports and driver's licenses. Would government-sponsored or government-endorsed identity systems solve some problems that make the internet less secure? This is an example of the important policy questions that need the attention of both technical and public policy experts.
My Teaching
I have been very fortunate to have had the opportunity to teach at the collegiate level for several years. I have taught a variety of undergraduate and graduate courses in public policy, political science, public administration and economics. My recent courses at Wyoming and at the Bush School of Government have included courses on policy processes, policy analysis methods, e-government and research methods. I really enjoy teaching quite a bit, and I believe it makes my research better as well.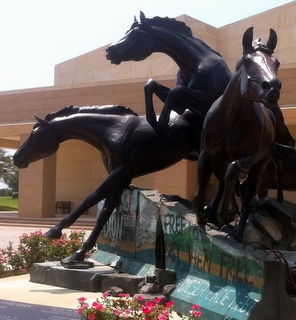 My other interests
Sometimes I enjoy getting on one of my bikes and tooling around. One of the many things I miss about Lincoln, Nebraska are the hiker/biker trails. I also followed my grandfather and father in becoming an amateur winemaker (vintner?). I bottle under the "Vin de Doug" and "Oxley Manor" labels, and some people have lived for several years after drinking my wine.
My prior profession could best be described as software developer. I still do some consulting on the side, but my main profession now is my teaching and research. Regardless, I still enjoy developing applications and web sites once in a while.
Please enjoy this site. That is, unless the enjoyment would break some law or offend you in some way. If that's the case, then please move on to some other site. I don't need that hassle, and we don't want your easily offended kind around here anyway. :^)